Program Features
Three year intensive career-oriented program
Fast track toward a Ph.D. in Mathematics at top European and US universities
Slower track toward a Masters in, e.g., top European programs
Small classes and close faculty-student interaction
Jacobs tuition/room/board rates are competitive with out-of-state fees at US state universities
Personal mentoring and advising
Vibrant community of motivated and gifted peers
Why study Mathematics?
Mathematics is an important step in many careers, and an entry ticket into graduate programs in many disciplines besides Mathematics (Engineering, Physics, Astronomy, Economics, Finance, and many others).
Mathematics gives a perfect background for continuing toward an MBA.
According to The Wall Street Journal, Mathematician is the best of all professions, most recently confirmed in The Best Jobs of 2014.
Last but not least, Math is fun!
The Jacobs Advantage
Modern dorms, with people from all over the world
Early involvement in research, usually with one-on-one mentoring and a history of faculty-student publications in reknown journals
Flexible curriculum to adapt to student interests and pace
Flexible choice of minor subjects, see details of the undergraduate curriculum
International Foundation Year Program offers an educational structure akin to a US four-year degree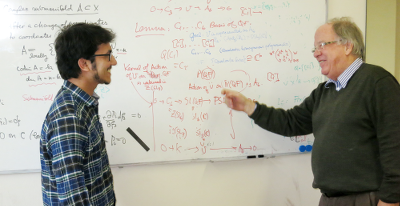 "Guided Research"
with Prof. Alan Huckleberry.






Student poster presentation
in a first year class.






Jacobs alumnus Vlad Vicol visits the campus to teach at the International Summer School.